Eventful In Partnership with FirstBank
SAN FRANCISCO based online news wire (THEWILL) reports:-
A contractor (name withheld) needed to collect his payment for a contract he executed for the Lagos State Government. Having met a brick wall everywhere he went in the pursuit of his payment, his boon came up with a quick-fix. "Let's go and see the 'Lion of Bourdillon,'" he suggested to his contractor-friend.
 The contractor and his friend eventually managed to arrange a meeting with the 'Lion' at his Bourdillon Road, Ikoyi residence in the wee hours of the day. And as the 'Lion' listened to the contractor as he narrated his story, it was apparent that he was tired as all he could do in response was to yawn as he dragged himself from his chair.
"Lagos is tired," the 'Lion' muttered, walking towards his bedroom, adding, "Eko wants to rest," without minding his guests.
The bewildered contractor and his friend were confused as to what to do next as the 'Lion' banged the door behind them and went off to sleep. Some aides of the 'Lion' however advised the early-morning visitors to come back later that day and preferably at midnight.
When the duo returned at midnight, they had to wait till the wee hours again before being allowed to see the 'Lion.' This time, the 'Lion' had their time as he simply dialed a number, using his mobile phone and the contractor's problem was instantly solved.
There is no doubt that Senator Bola Ahmed Tinubu has become a personification of Lagos. Just as his word is law, he can do and undo. What started out like an act of drama at the beginning of the current democratic dispensation in 1999 has left Nigeria's premier state, Lagos, as a mere fiefdom of Tinubu who bears the titular toga of the "Lion of Bourdillon." Though there is nothing democratic about his bearing, he is, in fact, an Emperor.
 And there is no escaping the damning reality that Lagos is being plundered by a group of political usurpers who wear the cloak of democratic emancipators in an apparent case of parading immunity as impunity.
It is, indeed, an irony that the people of the South-west , despite their sophistication, have been hoodwinked into the present pitfall through the doctrines of the late sage, Chief Obafemi Awolowo, being propagated  by some desperate self-acclaimed messiahs. These masqueraders disguised as democrats on the platform of the National Democratic Coalition (NADECO), purporting to emancipate the South-west from the injustice of the annulment of the June 12, 1993 presidential election won by a Yoruba son, the late Chief MKO Abiola. Sadly, they only ended up foisting a most fraudulent robber-baron on the Yoruba nation.
A man with a questionable past is today addressed as Bola Ahmed Tinubu and he could bear any name  from his weird past  such as Yekini Amoda Ogunlere , Hameed Sangodele ,  Yekini Amoda or even Bobo Chicago. Ever since his inglorious eight years rule as Governor of Lagos from 1999 to 2007 on the platform of the Alliance for Democracy (AD), to date, he has more or less served as the chief looter who has unleashed the most egregious corruption and reckless looting on the treasury of Lagos State. Even as he hides under the guise of championing democratic principles, various frauds including financial crimes have been linked to him such that he can only be summed up as a perpetrator of diabolical deeds.
Tinubu was formally arraigned before the Code of Conduct tribunal in Abuja to defend himself against allegations that he operated foreign bank accounts between 1999 and 2007, while in office as governor, thus contravening Section 7 of the Code of Conduct Bureau and Tribunal Act, Cap 56 LFN, 1990.
The chairman of the tribunal, Justice Danladi Yakubu Umar, indeed had his hands full with the many charges against Tinubu. The charge sheet signed by the chief prosecutor, Kyari Ahmed, read : "That you Bola Ahmed Tinubu, former governor of Lagos State, being a public officer, as listed in part II of the fifth schedule to the 1999 Constitution of the Federal Republic of Nigeria and having subscribed to the Oath of Office as enshrined in the seventh schedule to the 1999 Constitution on assumption in office, as such engaged yourself in the operation and maintenance of several foreign bank accounts namely:
"Name of Bank – First Heritage Bank, Country Club Hill, Illinois, USA; Account Name, Bola Tinubu, Account Number – 
263226700
. Name of Bank – Citi Bank NA. New York, USA; Account Name – Bola Tinubu and Compass Finance and investment Company Limited; Account Nos – 
39483134
, 
39483396
, 
4650279566
, 
00400220
, 
39936383
. Name of Bank. Citi Bank International,  New York; Account Name, Bola Tinubu. Name of Bank – HSBC, 
177 Great Portland Street London
 WIW60J: Account Name Sen Bola Tinubu; Account No. 
71253670
, Sort code-40-03-15. Name of Bank – HSBC, 
177 Great Portland Street London WIW
 60J; Account Name; Sen. Bola Oluremi Tinubu, Account No. 
71253670
, sort code 
40-03-15
. Name of Bank – HSBC, 
177 Great Portland street London WIW
 60J Account name, Sen. Bola Tinubu – money market, Account No.04320002DN. Name of Bank – HSBC, 
177 Great Portland Street, London WIW
 60J; Account name: Tinubu Zainab Abisola (Miss); Account No. 
172447101
. Name of Bank – HSBC, 
177 Great Portland Street, London WIW
 60J; Account Name, Tinubu Oluremi Shade, Account No. 41421522."
The Society for Rule of Law in Nigeria (SRLN), has since hailed the Code of Conduct Tribunal over the criminal trial of Tinubu. The group described the trial as a welcome development, adding that "Nigerians, irrespective of their political affiliations, must begin to speak with one voice against corruption, because it (corruption) has no political party."
In a statement issued by its Coordinator, Comrade Chima Ubeku, the SRLN said inter alia: "This is a kind of news that gladdens our hearts and we hope that the Code of Conduct Tribunal will pursue the case to a logical conclusion. He lied on oath by refusing to declare the operation of many foreign bank accounts in the assets declaration form CCB-1 he submitted to the Code of Conduct Bureau on 6th January, 2004. We are also waiting to hear from those bread and butter groups to make the kind of noise that they used to make whenever a People's Democratic Party (PDP) member is on trial for alleged corruption…."
However, in what many have come to accept as a political deal for delivering the South-west to the ruling PDP, the Federal Government let Tinubu off the hook and the matter was thrown out of the Tribunal on technical grounds.
Tinubu's dubious activities came to the fore  quite early during  his tenure as Lagos Governor. After just being sworn-in in 1999, the late legal luminary and human rights lawyer, Chief Gani Fawehinmi, instituted legal actions challenging Tinubu's academic qualifications, which were discovered to be forged. The case of perjury, which has been hanging on his neck ever since then is yet to be dispensed with, even as he can no longer hide under immunity clause as a Governor. Being the questionable character he is said to be, the only response Tinubu could give to the premeditated Lagos House Assembly Ad-hoc Committee set up to clear him of the perjury charge raised against him by Chief Fawehinmi in 1999 was to admit full responsibility for some of the "needless errors," whatever that means.
He told the convoluted story to the Kangaroo committee that as a result of the acrimonious primaries of the Alliance for Democracy in the run-up to the elections, that the information contained in both the Independent National Electoral Commission (INEC) form and the affidavit of loss of certificates were supplied by one of his political aides, Senator Tokunbo Afikuyomi.
While the fraud spotted in the INEC Form CFO1 had exposed Tinubu as claiming that he attended St. Paul's Primary School, Aroloya, Lagos for his primary school education, the Ad-hoc Committee helped him adjust it to the claim that he attended St. John's Primary School, Aroloya, Lagos. It was clearly a case of a grand fraud applied to cover an initial fraud because all through the findings of the kangaroo committee, no mention was made of any testimony from any of Tinubu's classmates in the primary or secondary schools supporting his claims. It is as though Tinubu attended the school alone! The case has however refused to die as questions are frequently being asked on what has happened to the case.
The irrepressible Senator Ogunlewe had asked then: "Did Tinubu lie under oath that he attended St. Paul's Primary School, Aroloya, Lagos, which was not and is not in existence; Government College, Ibadan and the University of Chicago?"
Some political pundits opine that the case is still being covered because Tinubu still goes ahead to bribe those who could bring him to justice on the issue, including security agencies. He keeps boasting that he will always get off the hook because all officials within the Nigerian system have their price tags.
It needs to be recalled that in 2007, a group called the Lagos Progressive Movement fingered Tinubu and his political godson, Babatunde Raji Fashola, in a huge land scam running into several billions of naira in Lagos State. In a public statement issued on the matter, the group had noted:  "We, the Lagos Progressives Movement once again wish to update fellow Nigerians on the various land scams perpetuated by former Governor Bola Tinubu and being covered up by Governor Babatunde Fashola. The facts are true and verifiable. We have gone further to quote real names of collaborators and addresses of properties for readers to verify themselves. Tinubu is the number one landlord in Lagos and has turned Lagos land worth trillions of Naira into his personal possession to be used freely or given away unaccounted for. Even after he left office, Tinubu  continues to steal Lagos land under the watch of Fashola. He gives out Lagos land to curry political favours and still occasionally signs certificates of occupancy even as ex-governor and backdating them to the period he was in office. These brazen acts of corruption are being perpetrated with the active collaboration of select few public officers who are obscenely wealthy at the expense of Lagos tax payers. His accomplices in the frauds are Gbenga Ashafa – former Permanent Secretary, Land's Bureau,  since 2001; Mrs. Awofisayo – former Permanent Secretary and a relation of Bola Tinubu from Iragbiji, Osun State; Hakeem Muri-Okunola – former Personal Assistant (PA) to Tinubu and now Permanent Secretary, Ministry of Lands; Mrs Nike Animashaun and  Tunji Olowolafe, who was arrested by the Economic and Financial Crimes Commission
(EFCC) and detained for three days and later released, following the allegations of financial impropriety leveled against Governor Babatunde Fashola.
These people are arguably the wealthiest unelected public servants ever in the history of Lagos State. They are major wheelers and dealers of prime land. We mentioned in our earlier publication that the Land's Bureau at Alausa stinks of corruption. We catalogue below a few brazen acts of stealing and corruption committed by Tinubu and aided by Fashola on the good tax payers of Lagos. Tinubu's greed and primitive acquisition tendency knows no bound. In fact, it is believed that Lagos land personally appropriated by him is worth over N500 billion and this is growing because he hasn't stopped. Some of the properties outside the hands of the single largest landlord and which investigations have revealed are as follows:
1. 4, Oyinkan Abayomi (formerly Queens) Drive, Ikoyi: A 5-bedroom detached house on one acre of land which was originally the Lagos State Governor's guest house since 1979, but which now belongs to Tinubu. The certificate of occupancy  of the property valued at N450 million was signed and released to him by Fashola in 2007 shortly after he assumed office.
2. Tinubu's residence at 
26 Bourdillon Road
, Ikoyi was initially falsely presented as Oando Plc Guest House. Later, he purportedly bought it from Oando, and used public funds to rebuild and renovate it. The Lagos State Government bought the property and paid an undisclosed sum to him and thereafter gave the property back to him under the bogus Pension Bill he signed to law shortly before he left office in 2007. The property is worth over N600 million.
3. The annex of the Lagos State Guest House in Asokoro, Abuja was bought by the State Government in 2006 for N450 million, purportedly to protect the main house from security breach. Shortly after Tinubu left office, the property was transferred to him under the pension plan he signed into law before leaving office.
4. The 250-hectare land valued at about N35billion and strategically located at the Ajah junction on Lekki Road was initially meant for a General Hospital for the people of Eti-Osa Local Government but was stolen by Tinubu and handed over to Trojan Estate Ltd – a company owned by Deji and Wale Tinubu – to develop as Royal Garden Housing Estate at the expense of the taxpayers of Lagos.
5. The 1,000 hectares of land valued at about N75billion located at Lakowe near Abijo at Ibeju-Lekki Local Government  and given to Lekki Concession Company (LCC) which is partly- owned by Tinubu and Fashola and being developed as golf course and housing estate by Assets and Resource Management Ltd (ARM) as ADIVA project.
6. The prime land of 157 hectares with 2.5km of Atlantic beachfront valued at about N10billion and stolen by Tinubu from the communities of Siriwon, Igbekodo, Apakin, etc in Ibeju-Lekki Local Government and given to Ibukun Fakeye – his crony to build a golf course and luxury villa with little or no compensation to the villagers. In addition, Tinubu paid $20million (N3billion) out of public treasury to Ibukun Fakeye to commence the project in late 2006. Fashola has since released additional funding for this project, which is not owned by the state government.
7. The 14-hectare Parkview Ikoyi Estate foreshore land reclaimed by Lagos State Government is now owned by Bola Tinubu.
8. While in office, he allocated to himself the former Strabag yard beside the Lagos State Secretariat at Alausa, Ikeja. The property is now being developed into a shopping mall as big as the Palms in Lekki. This is public property brazenly stolen and now owned by Tinubu, aided by Fashola.
9. The choice property at Lekki-Epe road on which he built and owns the multi-billion naira Oriental Hotel and the extension of multi-storey car park beside it. Also, the multi-level recreation centre by Mobil in Oniru Estate on Lekki-Epe road jointly owned with ARM and Tunji Olowolafe. All these assets valued at over N25billion were obtained without paying a kobo to the Lagos State Government.
10. Tinubu and Fashola sold the following prime Lagos properties to their personal friend and front – Prince Dipo Eludoyin at very ridiculous prices:
• The 3.8-hectare of land of Lagos State Fisheries office in VI (beside the Institute of Oceanography) valued at N3billion.
• The fishery landing jetty at Badore (where the Ilubirin fishermen were to be relocated) valued at N500million
• The entire Ogudu foreshore scheme initially earmarked for a low-cost housing scheme valued at N5billion
• The Ilubinrin housing estate (which used to house Lagos state civil servants and judges up till 2007) valued at N2.5billion.
• The former Julius Berger yard at Oko Orisan, Epe valued at N450million.
11. Tinubu raised a loan of N4.7billion on Eko Akete project for which nothing was achieved before he turned around to sell the property to his Chagouri friends of Chagouri & Chagouri and Hitech Construction Ltd at a ridiculously low price at the expense of the taxpayers of Lagos.
12. Tinubu applied to personally purchase the Federal Secretariat building while in office. When he couldn't get to buy it, he directed Fashola to stop the eventual owner of the complex to develop it. The complex is presently wasting away courtesy of the Lagos State Government.
13. It took several months of horse trading and underhand payments before  Fashola could allow the new owners of 1004 flats to redevelop the complex.
14. Several other buyers of Federal Government properties and developers of properties in Ikoyi, Victoria Island and Government Reservation Area Ikeja were forced to succumb to the outrageous demands of Tinubu, Fashola, Commissioner Abosede and other officials of the Lagos State Physical Planning Ministry and were made to pay ridiculous amounts to private accounts before their redevelopments were approved. Those who refused or were unable to pay could not develop their properties. This is a major economic strangulation of property developers  and has contributed largely to the skyrocketing rent in Ikoyi, VI and Lekki axis.
15. Tinubu converted all the plots of land where Lagos Polytechnic was located at Ikosi near the old toll gate. He chased away the Polytechnic in 2006 and went ahead to locate the choice plots to himself, his cronies and political associates. The headquarters of Television Continental (TVC), which is owned by him, is located there. He deprived the  youths of Lagos of decent education because of his greed.
16. Tinubu singlehandedly sold the prime land on Aboyade Cole, Victoria Island which was recovered from some allotees, to UACN Properties Plc.  The amount of proceeds was shrouded in secrecy.
17. Eludoyin, fronting for Tinubu, built the estate directly opposite Goshen Beach Estate in Lekki area.
18. Tinubu's wife, Remi Tinubu, built the massive New Era Foundation youth camp at the junction of Eleko, off the Lekki-Epe express road, with Lagos State funds and has now converted it to personal use.
19. Tinubu owns the Fara Park Estate and the Beach Wood Estate both in Lekki.
20. The Critical Care unit at the Lagos State University Teaching Hospital (LASUTH) in Ikeja, built and equipped with state funds, is now owned personally by Tinubu. He has put one Dr. Sikiru Tinubu, (a supposed cousin of his) to run the outfit. It is run as a private unit and the proceeds are pocketed by the duo. The unit charges its users exorbitantly and most Lagosians can hardly afford to pay its high charges. Much of the revenue is derived from fees paid by the State Government for patients referred there by its General Hospitals.
21. Several prominent Nigerians in the judiciary, police, INEC, and other sensitive agencies have obtained prime land from former Governor Tinubu and incumbent Governor Fashola over the years without paying a kobo. Many of them had turned around to sell the land to third parties at substantial profit. Many top officials in the police, INEC and the judiciary who participated in the 2003 and 2007 elections and tribunals in states where Tinubu has interest were compromised with parcels of free prime Lagos land and cash. If the Lagos State Land's Bureau could publish the names and identities of beneficiaries of land allotees from  2000 to date, the scandal that will result is better imagined. Gbenga Ashafa, now a Senator, and Mrs. Awofisayo were the conduits through which these acts were being perpetrated. Both were also personally involved in various dubious land transactions on their own.
22. Prime land and properties have been used to pay off public officials who are personally close to Tinubu and Fashola for "jobs well done" or for being privy to sensitive information, notably:
(a) Dele Alake, former Commissioner for Information and Strategy, was sold a whole house on Alexander Road, Ikoyi where he lived as official quarters at a give-away price.
(b) Rauf Aregbesola, Osun State Governor, who was  a former Commissioner in Lagos as well as Muiz Banire, also a former commissioner, got detached houses at Ladoke Akintola Street, GRA Ikeja for their  "good job" while serving under Tinubu.
(c) Yemi Cardoso and Wale Edun, both former commissioners, were sold houses on Iru Close, and another location in old Ikoyi at give-away prices by Tinubu. The list is endless.
23. Governor Fashola in the wake of the petition against him presented by "The True Face of Lagos" to the House of Assembly has succeeded in buying his way out of trouble by bribing each of the 40 immediate past members with cash and prime state land at Abijo GRA, off Lekki-Epe road. He, in addition, bought a N40million bulletproof jeep for the Speaker in a desperate bid to ward off investigation by the Assembly.
These corrupt acts have deprived the taxpayers of Lagos billions in revenue which could have been used for public projects. Indeed, the prime land stolen from the Lekki axis is enough to build the Lekki-Epe road without burdening residents and other taxpayers with the 30-year concession toll road.
We know that people will say: why don't you take this matter to EFCC? Well the EFCC appears compromised on matters concerning Tinubu. If not, how come he has not been charged to court despite several petitions against him and in spite of Nuhu Ribadu's boastful claims that he had enough evidence to nail him?
It is evident that Tinubu is deliberately being shielded from prosecution. Tinubu left office about six years ago and lost his immunity but where is the Nigeria Police? But we know that eventually, his cup will run over and he will be brought to justice. And why is there a conspiracy of silence by those known to be dogged fighters of corruption? Why are they watching as both men appear to be getting away with corruption? We hope Lagosians will wake up and fight for their rights. The elite should speak out now and force the EFCC to take action. We once again call on the elders of Lagos, the elite at the Lagos Island Club, Ikoyi Club, Lawn Tennis Club, Yoruba Tennis Club, Ikeja Country Club, Eko Club, Metropolitan Club, The Boat Club, Apapa Club, etc. We also call on the religious leaders, prominent traditional rulers, the media, opinion molders and members of civil society to speak out. Let us join hands in the collective effort to call on the anti-corruption agencies, and in particular the EFCC, to act now and move into the Land's Bureau and the State's Treasury Office at Alausa to conduct a thorough investigation on land matters from 2000 to date. We assure the public that if this is done transparently, it might be possible to recover trillions of naira stolen from the tax payers of Lagos.''
It will be interesting to follow up on what has happened to the EFCC intervention in the case of allegations of fraud leveled against Gov. Fashola, by a body known as The True Face of Lagos , which led to the arrest, detention and eventual release of one Dr. Tunji Olowolafe, a prominent contractor and friend of  both Tinubu and Fashola. He was arrested in Lagos by operatives of the EFCC following its investigation into allegations of financial crimes. Olowolafe, a medical doctor and owner of Deux Projects Limited, whose company was used as front by the Lagos State governor to execute inflated contracts, was arrested on Friday, April 23, 2010, after investigators discovered that 27 contracts were awarded the company from the state Ministry of Health and three from the Ministry of Education.
He was drilled for three days while in the anti-graft body's custody and was believed to have made significant and useful contributions to the EFCC efforts to unravel facts on the various allegations of corruption against Fashola, which also led to the invitation of Fashola himself and some members of his cabinet.
 Despite the established fact that Deux Projects Limited collected more than N10 billion from the state coffers, nothing has been heard of the case even in the face of damning confessions by Olowolafe to the EFCC while in their custody.
It is worrisome that the anti-graft body has failed to make public its findings  over a year now after confirming that investigation was ongoing, with the promise that many more arrests were likely to be made then. It smacks of a cover-up that nothing has been heard since the EFCC extended invitations to three serving commissioners in Lagos State, namely Rotimi Agunsoye of  Local Government and Chieftaincy Affairs; Rotimi Oyekan of Finance and Jide Idris of Health. Also invited by the EFCC in connection with the corruption allegations filed by the True Face of Lagos is the Special Assistant to Fashola on Works and Infrastructure, Ganiu Johnson.
It is indeed remarkable that the petition against Fashola, which led to the arrest of Olowolafe, went to the heart of the matter as members of the  group enunciated their desire, as tax payers and residents , for accountability since taxes have recently become the major revenue base of the Lagos State Government. According to them, in developed societies where similar revenue regime operates, associations such as the group have acted as government watchdogs.
The group thus stated: "This is why some of us have decided to take up the gauntlet of championing the cause of taxpayers in the state. After all, if we don't pay our taxes, government can charge and eventually jail us.''
They revealed that in the last 10 years, tax revenue has come to constitute about 75 percent of government revenue base, yet the government never bothers to render account to taxpayers in Lagos. In the last three years alone, a colossal sum of N1.1 trillion  was budgeted by Fashola's government, with the government itself affirming that it has consistently recorded a minimum of 75 percent of budget performance, out of which 80 per cent came from Internally Generated Revenue (IGR). This is 30 percent more than the entire budgets recorded by successive governments between 1992 and 2007, a period spanning 15 years. The total tax revenue of Lagos last year as the time of making the revelations showed that tax on a monthly basis hovered between N14 and N17 billion while Federal Allocations stood at N6 billion monthly. This is more than the revenue of seven states in Nigeria put together on a monthly basis.
One question that keeps coming however is how Fashola has been spending the money. According to the group, "While we note the heavy investments in roads and environmental infrastructure mainly, and commendably so, there is the need to question some of the ways the governor has been expending tax money which, in our opinion, reflects financial recklessness, mismanagement, gross constitutional violations and abuse of office."
Some of the allegations are as follows:
1. That in 2009, Fashola gave N250 million to the Rotimi Akeredolu-led executive of the Nigeria Bar Association (NBA) for the NBA conference held in Lagos, at a time when Lagos teachers and doctors were on strike for improved welfare package.
2. The Babatunde Raji Fashola (BRF) government within six months, January to June 2009, spent N420 million on the hiring of private security – to guard who? – despite his heavy investment in the Police Force through the State Security Trust Fund.
3. BRF spent N1.5 billion to demolish the Bank of Industry (BOI) building, paying a company introduced by one Tunji Olowolafe in cash transfer, only for him and his cronies to claim the land adjacent to it.
4. The BRF government awarded a part of Western Avenue (Funsho Williams Road), about two kilometres road for N7.7 billion, just between Abalti Barracks and Costain. And without the construction of any bridge, the project was carried out by Julius Berger. This project must certainly be investigated.
5. Between January and June 2009, the BRF government claimed to have fuelled 225 vehicles in his office alone with N135 million. These figures amount to about N800, 000 per day at a time that petrol was sold for N65 per litre. The government always got fuel cheaper, but BRF claimed to have bought it at N85 per litre.
6. Between January and June 2009, BRF's Chief of Staff and Personal Assistants expended N290 million in sending text messages and phone calls on their lines.
7. It is also very sad to know that the BRF government awarded the construction of a road and drains inside Gbagada General Hospital for over N1.8 billion to the same Tunji Olowolafe's company (DEUX Projects Limited).
8. The sum of N1.5 billion of un-appropriated funds, without approval, was claimed to have been spent on the demolition of Oshodi.
9. The Helicopter Deal was a big fraud. The helicopter was not built for any kind of emergency evacuation, rescue or to even combat urban fire. Over N5 billion has been spent on the two helicopters. And the seal of Lagos State is not on it, and it is not even in Lagos but in the Niger Delta making money for some private people in government. The whole helicopter deal stinks to high heavens; it constitutes the biggest governmental fraud of all times and confirms the rot in the State. See THISDAY December 19, 2009.
10. The Senior Special Assistant , SSA (Media) to BRF spent N183 million in six months on press coverage and editors outside the approved budget but funded directly from the Governor's Office.
11. In a State where children are sitting on the floor in classrooms, where unemployment is rampant and poverty pervasive, BRF paid the wife of a controversial pastor over N600 million in two years for Christmas decorations for about six streets in Lagos.
12. In six months, between January and June 2009, BRF spent monies on several faceless organisations, subventions, grants and donations such that they quickly pocketed N2 billion.
Other allegations of the group include:
1. The reckless increase and payment of over 60 percent increase on the LASU – Iba road awarded by the Bola Tinubu government for N6.2 billion. It was jerked up to N10 billion less than two weeks that BRF came on board.
2. The Tinubu administration awarded the construction of City Hall for N2.3 billion. BRF only changed the floor tiles to marble tiles and increased the contract sum to N5.2 billion. This project was increased by 126 percent.
3. Publishing of INDICATOR magazine is falsely presented to the public as a private magazine but is actually coordinated by Tunji Olowolafe and Hakeem Bello, SSA (Media) to BRF with government money.
4. BRF recently gave a media-related Permanent Secretary and some others the sum of N100 million to do a soap opera on himself. They are presently in London recording the film.
5. The BRF government has failed woefully in the area of Public Private Partnership (PPP) in three years. Yet, BRF is paying the PPP boss in Lagos State N2 million per month in violation of the Constitution, when even commissioners recognised by the Constitution are receiving N300, 000 per month. The PPP guy is the highest paid government official presiding over a non-performing and failed parastatal.
6. The Beautification Programme of Fashola administration is laden with corruption. In a State where there is no water, where over 90 per cent of the road in Lagos is in a deplorable state of disrepair, he is spending over N13 billion on planting grasses and flowers. Most of the money was spent to import palm trees from Niger Republic, a Sahel region when Lagos is in the rain forest, which explains why most of them have dried up.
7. It is important to note that the renovation of classrooms of usually 12 blocks-plus-one which was done for N26 million by the Tinubu administration up till 2007 was increased to N53 million with the collaboration of the housing commissioner who is supervising projects in the education ministry.
8. The CCTV project was awarded to BRF's relation who claimed to be acting for CISCO. The contract was awarded for $62 million dollars, while the rejected quote for the contract was $30 million. It is important to note that this is only a pilot scheme.
9. BRF's wife travels abroad once bi-monthly and takes N30 million per trip from the State coffers, apart from her monthly running cost.
10. The mother of all rip-offs is the award to DEUX PROJECT LIMITED, a company owned by the powerful Tunji Olowolafe, 11 out of 19 contracts in the Lagos State Ministry of Health between January and August 2009. Out of N5.6 billion contract in the Ministry of Health, Olowolafe alone collected N5.1 billion worth and was paid 70 percent upfront in cash.
Here then are the unanswered questions:
1. Why did BRF divert N1.85 billion in the Ministry of Women Affairs and Poverty Alleviation to a project that was not originally provided for in the budget but promptly awarded to Olowolafe?
2. Why is the administration of a lawyer like Fashola illegally deducting funds from the statutory allocation of the Local Governments in Lagos State?
3. Why was the Mayegun Scheme sold to Olowolafe and other friends and cronies against public interest without any independent valuation by the relevant agency of government? Why is the size of the scheme shielded in secrecy? Why was N5.2 billion for which the land was sold untraceable? Where is the over N2 billion loan borrowed to  sand-fill the place? What is the fate of the tourism and art-craft sellers chased away from the place?
4. Pinnacle – why did the governor and his cronies engage in the questionable transfer of 400 hectares of land to Pinnacle, South Africa, when it is known that the company is almost bankrupt and the ABSA Bank now owns over 60 percent of the company? What nature of PPP is this?
5. Why was the illegal sand-filling of about one kilometre in the Badagry – Marina awarded for N1.5 billion out of which N700 million has been paid, and yet the contractors and the Tourism Ministry have completely destroyed all the historical relics and artifacts in the area? It has also created an environmental disaster for West Africa because of greed. And it appears the Commissioner has been settled.
Here's a list of Fashola's other alleged constitutional violations:
1. Flagrant and deliberate disregard for the Appropriation Law passed by the Lagos State House of Assembly, in violation of Section 120 of the 1999 Constitution.
2. Criminal diversion of funds without due approval of the Lagos State House of Assembly, in further violation of Section 120 (3) of the 1999 Constitution.
3. Indiscriminate award of contracts without due process, without following the laid down financial regulation as well as the public procurement guidelines. The payment of such contracts is in violation of Part (E) Section 120(4) of the 1999 Constitution of the Federal Republic of Nigeria.
5. Illegal and unwarranted deductions from the Statutory Allocation of the Local Governments. This is in direct contravention of Public Revenue Provision of the 1999 Constitution and in violation of Section 162 sub-section 6, 7 and 8.
8. Indiscriminate borrowing by the Ministry of Finance without legislative approval, which the Finance Commissioner calls bridging loans, is a grave assault on fiscal federalism, a coup against financial regulations and a shameful and criminal violation of Section 120(1), (2), (3) and (4) of the 1999 Constitution.
9. Concentration of over 70 percent of Lagos State Government contracts in the hands of one Tunji Olowolafe. This is the clearest indication of the betrayal of trust by Governor Fashola. It is against the Oath of Office he swore to; it is also a violation of Sections 14(4), 15(5) and 17(2a) of the 1999 Constitution on which social objective of a just, free and equitable social order is founded.
10. Arbitrary use of Special Expenditure Vote for activities not originally provided for under the Appropriation Law. This is a further betrayal of fiscal federalism and a violation of provisions of Section 120(3) and (4), and Section 123(1) and (2) of the 1999 Constitution.
11. Payment of 70 percent up-front to persons and cronies for contracts not yet executed. Similarly, this is a contravention of Section 120(4) of the 1999 Constitution.
12. Giving arbitrary donations to selective professional associations and faceless organisations for acting as sycophants without appropriate authorisation by relevant constitutional bodies. This is a clear violation of sections 120(4) and 123 of the 1999 Constitution
13. The fraudulent purported acquisition of two Bell 412 EP series helicopters from a Canadian firm constitutes  a flagrant violation of Section 123(1) and (2) and Section 120(4) of the 1999 Constitution.
14. Furthermore, the award of contract of courts and other judicial Infrastructure as well as procurement for the judiciary in Lagos State by the Attorney-General, Tunji Olowolafe and Governor Fashola is in gross violation of Section 121(3) of the 1999 Constitution.
In all these aberrations, the Lagos State House of Assembly stands accused of keeping mute which portends that it has become inept, archaic, drab, docile and inefficient. All the noise by the Assembly Speaker about accountability and probity, according to the group, was only to enable the legislators line their pockets and feed fat on the sweat and toil of the people of the State.
The two leaders of  the True Face of Lagos, Tunde George and Kasali Martins, were forced to go underground to avoid death threats from  parties loyal to Fashola and Tinubu. Challenging the 'Emperor of Lagos' and his godson is fraught with all sorts of dangers. There is a killer gang in their employ known as Team Lagos. The very dangerous group is made up of local thugs and enforcers, largely belonging to the National Union of Road Transport Workers (NURTW). Each member of Team Lagos is paid N1 million every last Tuesday of every month under the coordination of the musician, Wasiu Ayinde Marshall.
As all opposition forces such as the True Face of Lagos challenging the imperial domination of Lagos by Tinubu and Fashola are faced with threats to their lives by the thugs known as Team Lagos, it has to be stressed that even Tinubu and Fashola have had their share of quarrels in the sharing of their spoils. The arrest of Olowolafe was said to be the climax of the bitter feud between Tinubu and his godson over certain fundamental issues, chief among which is the control of finances of the state.
Fashola's nemesis, as it were, was his complaint about the huge monthly deductions of over N3 billion from the state coffers every month as consultancy fee by Tinubu's tax company, Alpha Beta, from the almost N30 billion internally generated revenue (IGR). Fashola would have been consigned to history, never to be returned as the flag-bearer of the party for the governorship elections of 2011.
From the foregoing therefore, there is no doubt that the regime of corruption in Lagos initiated by Emperor Tinubu and continued by his godson Fashola has put the South-west state in a serious deficit
TINUBU- meet the pathfinder for the development of Lagos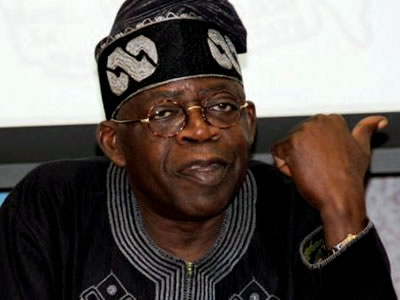 By: Jide Ayobolu
A brief journey back into the fiscal, physical, economic and social conditions of Lagos some 13 years ago will reveal the following: a city buried in heaps of rubbish, a city almost swallowed up in crime, a people choked up in traffic, millions of unemployed youths, thousands of area boys on the prowl, decaying infrastructure, dwindling internally generated revenue and a city of over 12 million with hopelessly bad and damaged roads. The armed bandits also ruled the day and night. Lagos was Nigeria's nemesis. Everyone loved Lagos, but no one, not past military and civilian governors could do anything about it. Not even the federal government was willing to tackle the problems of Lagos. The narrative of Lagos was that of an abandoned and neglected former capital city which had become a no man's land.
Then the military with their jackboots exited power and stepped in one man who changed the face of Lagos. That individual was Bola Ahmed Tinubu. He came in as an elected governor in 1999 after years of democratic struggle and a wealth of experience in the business world as an accountant and oil industry expert. Soon after he took over, he stamped both his vision and authority on the state of Lagos and in 8 years, the face, reputation and face of Lagos changed. He re-wrote the rule book, broke away from development stereo types and against all odds, inspite of detractors and political enemies initiated and implemented policies that laid the foundation for the infrastructural renewal of Lagos. The Lagos we see today had one chief Architect- Governor Tinubu supported by a cast of competent technocrats and progressively minded individuals, one of whom now occupies the Alausa government house-Governor Raji Fashola. The story needs to be told and there is no amount of hatchet job or sponsored write ups and paid online advertorials that can change the solid legacy that was built.
The virtues of courage, determination, commitment, vision, focus and strong sense of purpose that have characterized Asiwaju Bola Ahmed Tinubu's politics were no doubt responsible for this extraordinary politician's emergence as one of the country's most successful governors since Nigeria's return to democratic governance 12 years ago. On his assumption of office as Governor of Lagos State in 1999, Asiwaju Tinubu inherited a state that was practically bankrupt. The country's commercial nerve centre was one of the worst victims of the previous one and a half decades of military dictatorship and neglect.
Public infrastructure had disintegrated abysmally. Delivery of social services had collapsed in virtually all sectors. The environment was in chaos as Lagos was routinely described as one of the dirtiest cities in the world. The state was largely dependent on insufficient financial allocations from the centre as she lacked the capacity to generate adequate revenue internally to meet her numerous challenges.
The public sector was demoralized and ill-equipped, psychologically and logistically, to effectively perform its functions and achieve set objectives. While the citizenry was alienated from the state and thus de-motivated from paying taxes or the ones they paid being stolen making the state technically bankrupt, the organized private sector had little or no incentive to partner with the government in meeting the immense developmental challenges of the Mega City.
Assembling a team of accomplished technocrats, Asiwaju Bola Ahmed Tinubu's Administration drew up a Ten-Point Agenda, which it began to systematically implement for the re-vitalization and re-invention of the state. The total budget size of Lagos State at the inception of the Asiwaju Bola Ahmed Tinubu Administration in 1999 was a little over N14 billion while the state's Internally Generated Revenue was approximately
N600 million monthly. Yet, the monthly public sector wage bill was N800 million. The implication was that Lagos state was entirely dependent on allocation from the centre, which was grossly insufficient to meet the huge challenge of re-building a state that had been neglected and allowed to decay for over two decades.
Eight years later under Asiwaju's astute guidance, Lagos had become financially viable and autonomous of the federal government; lives and property had become more secure; public infrastructure was being aggressively modernized and expanded; there had been a dramatic improvement in the quality and efficiency of public health care, education, the environment, water supply and public transportation; Lagos was attracting new investment in diverse sectors on a daily basis despite the depressing national economic climate.
The Asiwaju Bola Ahmed Tinubu administration from inception drew up a clear and focused Action Plan for the state in conjunction with critical stake holders including the Organized Private Sector, civil society groups and the public service. The result was the evolution of the Ten-Point Agenda focusing on Education, Health care, Job creation/poverty alleviation, Power and water supply, Public transportation/Traffic management, Physical Planning/Environmental renewal, Infrastructure renewal, Justice/Law and order, Food security and public sector reforms.
Tinubu's visionary administration re-structured the machinery of government creating new ministries such as Housing, Physical Planning Sports and Youth Development as well as Women Affairs and Poverty Alleviation for more effective policy implementation. Asiwaju Tinubu brought seasoned and accomplished technocrats into government as Commissioners and Special Advisers in their areas of expertise. Through meticulous planning and disciplined implementation, the Asiwaju Tinubu Administration grew the budget size of Lagos State from N14.200 billion in1999 to N240.866 billion in 2007. It is significant that at no time under Tinubu's stewardship did budget implementation performance fall below 60%.
In a similar vein, the Tinubu Administration consistently maintained an annual budgetary ratio of at least 60-40% in favour of Capital over Recurrent expenditure to ensure rapid infrastructure development.
A first class financial strategist, Asiwaju Tinubu, through creative and innovative financial engineering, took Lagos from a yearly Internally Generated Revenue of N14.64 billion in 1999 to N60.31 billion in 2006. By March 2007, the state had achieved a monthly Internally Generated Revenue of N8.2 billion.
This impressive revenue performance achieved by the Tinubu Administration in Lagos State did not happen by chance or luck. It was due to carefully thought out and effectively implemented policies such as the introduction of the Electronic Banking System/Revenue Collecting Monitoring Project, computerization of the revenue collection process, introduction of Electronic Tax Receipts, re-organization and professionalization of the former Board of Internal Revenue now the Lagos State Internal Revenue Service, tax administration reforms and the creation of robust data base of tax payers.
Lagos State under Asiwaju Bola Ahmed Tinubu became a pace setter in sound and innovative public sector financial management. In September, 2002, for instance, Lagos State was the first government in Nigeria to raise funds from the Capital Market for infrastructure development. This was in recognition of the fact that long-term funds were necessary for long-term projects. The state raised a N15 billion Floating Rate Redeemable to prosecute such development projects as roads construction, millennium housing, water works, construction and rehabilitation of courts, waste management projects and millennium class rooms among others.
The bond has since been fully redeemed and other states and even the federal government have copied the Lagos State model. Again, in 2003, the Tinubu Administration invested N3.84 billion in Celtel (now Airtel) and by the time the state divested from the company in 2006, asurplus of N19 billion had been reaped, which was invested in the provision of infrastructure. As a result of its financial ingenuity, prudence and discipline as well as extensive public sector reforms for improved service delivery, the lasting legacy of the Tinubu Administration in Lagos State between 1999 and 2007 are still there for all to see. They include:
•         Massive roads construction, dualization and modernization across
Lagos State such as Kudirat Abiola road, Oregun; Awolowo road, Ikoyi; Akin Adesola road, Victoria Island, Adeola Odeku road, Victoria Island; Agege Motor road; Ikotun-Igando road; Yaba-Itire-Lawanson-Ojuelegba road; LASU-Iba road, Ojo; Ajah- Badore road, Eti-Osa; Oba Sekumade road, Ikorodu; Adetokunbo Ademola road, Victoria Island and the ongoing expansion and modernization of the Lagos-Epe Expressway as the largest concessioneering project of its size and compexity in Africa among several others.
•         Reconstruction and upgrading of the Lagos Island Central
Business District including the modernization of 16 roads in the area and the historic Tinubu square.
•         Upgrading of the buildings and facilities at the Lagos State
University Teaching Hospital (LASUTH) to world class grade; expansion and rehabilitation of old General Hospitals in Lagos, Gbagada, Epe, Isolo, Ikorodu, Badagry, Agege and the Island Maternity; building of new General Hospitals at Mushin, Shomolu, Ibeju-Lekki and Isheri-Iba as well as upgrading of existing health centres to full fledged hospitals at Ijede, Ketu, Agbowa and Agege among others.
•         Provision of free health services for children under 12, the
aged above 60 and free ante-natal care for women; Free eye screening, eye treatment, eye surgery and provision of free eye glasses popularly known as 'jigi Bola', free treatment for maleria, tuberculosis and leprosy, free Limb Deformity Corrective Surgery, free Cleft-Lip Corrective Surgery and the introduction of the Quarterly Eko Health Missions that provides free medical services including free heart surgeries to local communities.
•         Elimination of mountains of refuse that used to deface and
disgrace Lagos through the introduction of community-based Private Sector Participation (PSP) in refuse collection and disposal, expansion and modernization of land –fill sites, construction of Transfer Loading Stations, establishment of waste-to-wealth facilities in Ikorodu as well as re-organization, modernization and re-equipping of the Lagos State Waste Management Authority (LAWMA).
•         Massive construction of new drainage channels as well as the
creation of Drain Ducks as well as the Emergency Flood Abatement (EFAG) to clear existing drains and respond to flooding.
•         Rehabilitation of primary and secondary schools in all Divisions
of the state through the Schools Rehabilitation Programme, massive construction of school furniture and equipping of laboratories; provision of free education in all public primary and secondary schools including payment of WAEC/NECO fees as well as all internal examination fees to ensure that indigent children do not drop out of school.
•         Construction of 6,000 housing units such as Abraham Adesanya
Estate, Ajah, Ibeshe low income housing scheme, Oba Adeyinka Oyekan Estate, Lekki, Ayangburen Phase II, Ikorodu, Gbagada Medium Housing Scheme, Amuwo-Odofin Housing Scheme, Abraham Adesanya Estate, Phase II, Ojokoro Millennium Housing Scheme, Alaagba low income housing scheme as well as the Oke Eletu and Oko Oba low income housing schemes among others.
•         Massive construction of rural roads as well as rural
electrification and water supply schemes; construction of micro water works at Onikan, Ikeja, Iwaya, Igando, Oworonsoki, Atan, Bariga, Isolo, Shomolu and Iponri among others to improve water supply in Lagos state.
•         Construction and equipping of new High Courts, computerization
of court registries, enhanced welfare for judicial officers to stregthen the rule of law, establishment of the Office of the Public Defender (OPD) to provide free legal services to indigent persons and the establishment of the Citizen Mediation Centre as an alternative dispute resolution mechanism.
•         Establishment of the Lagos State Traffic Management Authority
(LASTMA) for enhanced traffic management; establishment of the Lagos Metropolitan Area Transport Authority (LAMATA) to plan and manage an integrated transportation master plan for Lagos; initiation of the revolutionary Bus Rapid Transit (BRT) scheme that has transformed the face of public transportation in Lagos State; construction of 55 bus stop shelters; construction of 25.9km of median barriers to enforce lane discipline and improve travel time on major high ways; fabrication and installation of 50,000 units various types of traffic signs to improve road safety; installation of at least 63 functional traffic lights at major road intersections among others in the transportation sector.
•         Initiation despite stiff opposition by the federal government of
the first successful Independent Power Project (IPP) by any state government generating 260MW of electricity from Ikorodu to the National Grid.
•         Completion of such abandoned projects as Teslim Balogun Stadium
and the new Government House at Alausa as well as finding a permanent solution to the erosion and perennial flooding of the Bar Beach by constructing an enduring shoreline defensive barrier.
•         Creation of 37 new Local Development Council Areas bringing the
total number of Local Government Areas in the state to 57 in order to accelerate grassroots development. He successfully sustained and nurtured them to maturity despite the fierce opposition of the Federal Government that illegally withheld N24 billion of the state's Local Government Statutory Allocation for two years despite a Supreme Court directive to the contrary.
In Y2007, Asiwaju Bola Ahmed Tinubu successfully handed over the mantle of the state's leadership to Mr. Babatunde Raji Fashola (SAN) who has continued to build on the firm foundation laid by his predecessor. In the just concluded general elections, Asiwaju Tinubu's influence was a critical factor not only in his party's retention of power in Lagos State but also its success in recovering the states it had earlier lost in the South West in the 2003 and 2007 elections.
For his excellent performance as the Executive Governor of Lagos State of Nigeria (1999 – 2007), Asiwaju Bola Ahmed Tinubu received several awards.
These include
•         Best Governor in Nigeria for Y2000 by the Nigerian-Belgian
Chamber of Commerce;
•         Y2002 Best Practices Prize in improving the living environment,
awarded by the Federal Ministry of Works and the UN Habitat Group;
•         Citation by the New York based World Trade Association on June
12, 2002, as the symbol of progress in Nigeria. The only other recipient in Africa was President Nelson Mandela of South Africa.
Asiwaju Tinubu palyed key roles in Nigerian politics long before he became Governor of Lagos State. Tinubu was elected to the Senate from Lagos West constituency with the highest votes in the country in the Third Republic.
In the Senate he was the Chairman of the Senate Committee on Banking, Finance, Currency and Appropriations. In that capacity Tinubu initiated a far reaching probe of the finances of the National Assembly that set him at loggerheads with the legislative bureaucracy and the military regime at the helm of affairs at the time. Again, Tinubu was at the forefront of Chief MKO Abiola's campaign for presidency in 1993. When the June 12, 1993 election, described as the freest and fairest in the country's history was annulled, Tinubu emerged as one of the fiercest opponents of the annulment. As the arrowhead of the struggle to actualize Abiola's mandate, the military junta reached out to him severally to jump ship and come over to their side. He was offered juicy appointments and contracts to no avail. He refused to betray his principled commitment to the sanctity of a free and fair election. Exasperated by Tinubu's intransigence, the military viciously went after him. He was detained. His house was fire bombed. He eventually had to flee the country for his dear life. His wife, now Senator Oluremi Tinubu and her children had to be smuggled out into exile. Tinubu, while in exile remained steadfast in his commitment to the pro-democracy struggle making great personal and financial sacrifices towards this effort. A pseudo democrat would rather enjoy the transient benefits of economic and political power rather than risk his life fighting for truth and justice but not Tinubu who remained steadfast.
Tinubu's re-engineering of the finances of the IGR of Lagos, remains a sterling contribution. The facts are clear. Lagos was earning an Internally Generated Revenue of N600 million monthly when Tinubu assumed office in 1999. Through deft financial engineering, Tinubu turned around the finances of state and by the time he left office in 2007, the IGR of Lagos was over N8 billion monthly. Governor Fashola has built on this strong foundation and the IGR of Lagos is today over N15 billion monthly.
Asiwaju Tinubu remains one of the most influential, courageous and principled politicians and statesmen in contemporary Nigeria. In a political culture where most members of the political class tend to gravitate towards the ruling party for pecuniary reward, Tinubu's resilience and steadfastness in giving inspirational leadership to the opposition is remarkable. It is a testimony to the depth of the convictions that have motivated and sustained him in politics over the last two and a half decades.
pointblanknews.com
Spaces Available Here